​
Spur Western Wear: Buying Cowboy Boots, What's Your Style?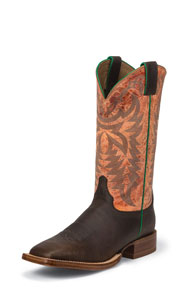 There's a lot to consider when purchasing a great pair of cowboy boots. "Form should follow function" definitely applies. So first, what are you going to do while wearing your cowboy boots? Are your boots for every day wear and you're going spend all day on your feet, or are they for occasional wear such as a night on the town? Your answer(s) affects what you'll choose. Cowboy boots come in a wide range of styles with a variety of sole, heel, toe and leather options:


Cowboy boot soles are made of leather, rubber or composite materials.
Cowboy boot heels vary by height and angle and generally include roper/super roper, walking, cowboy and fashion heel options.
Cowboy boot toe styles vary by shape and width, ranging from narrow snip toes, currently popular in women's fashion boots, to wider square and round toe options.
Cowboy boot leather options include most commonly cowhide, but "exotic" leathers such as ostrich, alligator, snake and lizard are also available.
Yep, the choices are endless. Whether you're buying online or stopping into one of our store locations, Spur Western Wear is here to help.
Shop Men's Western Boots >
Shop Ladies' Western Boots >

Need Assistance?
Call Us Toll Free
1.866.458.2262